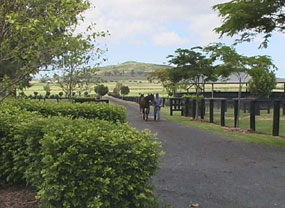 Ron Gilbert is not one to do things by halves. Not surprisingly, he embarked on an exhaustive investigation before Highgrove came into being. "Initially a dairy farm with abundant water and located between two ancient volcanoes, the soil was perfect for growing horses," says Gilbert. "It was close to our home in Toowoomba, which meant we could be much more hands-on."
The Gilberts travelled to Kentucky where they visited major studs to study ideal farm design and husbandry practices.
Luckily, as a carpenter who had created a flourishing building development company, Ron Gilbert had the practical knowledge that would prove invaluable in creating a farm that would be the envy of many with its quality improvements.
Everything at Highgrove – from the hay feeders to paddock gates – was subject to careful consideration before it was built, and the result is an aesthetically pleasing but enormously functional farm.
The Gilberts invested in their own float to enable them to minimize travel time and disruption for mares being walked-on to the Hunter Valley stallion stations, and with access to many of the best stallions in the world just eight hours away, the Gilberts have no plans to stand a stallion at Highgrove. Their focus is entirely on breeding and selling outstanding horses. Each mare receives unparalleled attention and Highgrove is exclusively home to the Gilbert family's mares.